Long before I discovered the political fire of a brassiere bonfire, I decided that lift or sag I won't fall for the boob trap. My resistance was personal and since it was way past capitalising on its 'make a statement' date I had to do with whimsical titology. Read more
here
.
Recently, a question that concerns the feminine mystique and mistake is this: Can you lift those up without wearing bras? Sure, if you've got 40 minutes to spare you can walk out with a
Cup and Up
and get to be perky for the rest of
your life. No more getting gifts from partners that end up with you floating in those bowls because men come with Baywatch fantasies even though they cannot handle those. Or, if they are keeping in touch with trends you'd have to squeeze yourself in.
Eyal Gur, an Israeli researcher, has worked on this 'internal bra' described as "harnesslike", which makes one think of some beasts that need to be kept in control. After a small surgery a centimetre below the skin cups like those used in regular bras are placed, then straps are fixed to the ribs with titanium screws between the breast and shoulders, and you are ready.
I did a little experiment on myself. I pinched a centimetre of me and while the cup part may not become visible the straps could unless you are very fleshy. I could not manage to pull at that centimetre near the shoulder.
Besides, even if it is for those who have a genuine problem how would it help? How would women check themselves for breast lumps? It is a serious concern. And, what if they lose weight naturally? What if they gain weight? The idea of those screws is quite ugh and there will be scars too. What happens to the nipples? Sudden arousal from airconditioners can be quite an embarrassment. Surely the undercover operation won't be covering up the crucial area?
These new-fangled experiments to make us feel good are really a dampener. I am not impressed and cannot imagine a world where my silhouette would be the same everyday. Who wants to be a winner without Triumph?
Imagine not being able to linger near lingerie sections and then look through lace like it's an unknown face.
- - -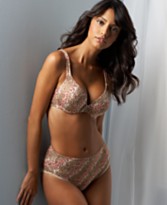 The other day I went for an essential item of a colour I needed badly. I went to a shop in an old arcade that has not felt the need to smarten its act. I entered the shop I remembered as a child and an adolescent where I'd shyly look away as my mother made the purchases. It was around 11 AM and the store was cramped. I managed to find space and stood against the counter. The salesman while giving me the skin-coloured panties informed me that I should go for sea green as it would suit me!
Before I could snap at him, a Ms. Amazon pushed against me. "Excuse me, can you just wait?"
"I am not pushing; I am being pushed, so I am also pushing," she said.
I had nowhere to push and the glass counter would have pieced through me had it been a sharp object.
The salesman realised that I wasn't going to swim in sea green, so he shut the box. Yes, these were all in large boxes. Then he brought out one with much care and whispered, "Foreign." I was supposed to in my excitement tear into those. He picked up one and stretched it. "Anyone can fit." Images of Ms. Amazon and me sharing the same space flashed before me. "No, thanks."
He got into overdrive and brought out a high-cut one and put his hand inside one leg. I told him I was done.
"Over? No bra?"
Ah, well, I could do with one.
"Size? Cup?" I told him while I pretended to feel up some Mickey Mouse undies.
He brought out something that even a nun would wear only if she desired to feel particularly stifled. I wanted something a bit, well, low cut.
"Madam,
usmey se tau sab baahar niklega
. (Madam everything will just spill out of it)."
If he was saying this to me, what would he tell Ms A still pushing me with her mammaries?
I was getting angry, by which time he had brought out something and stretched it. "Tee-shirt bra," he declared.
"I don't want one."
"You can wear with other clothes also, it will look nice."
Now I was ready with a mouthful. "I know what I want. If you don't have it just tell me so."
"My job is to tell you what is right and what is wrong."
He was going all intimate clothing evangelical on me. By now Ms Amazon had moved away. "Look…" which was an error for he did precisely that. "Are you trying to teach me? Do you think this is my first time?"
I wanted to wipe out that grin from his face. Unrepentant, he brought out one with intricate shadow work. "
Holes wallah chalega?
" (Will one with holes do?)
Holey cow.