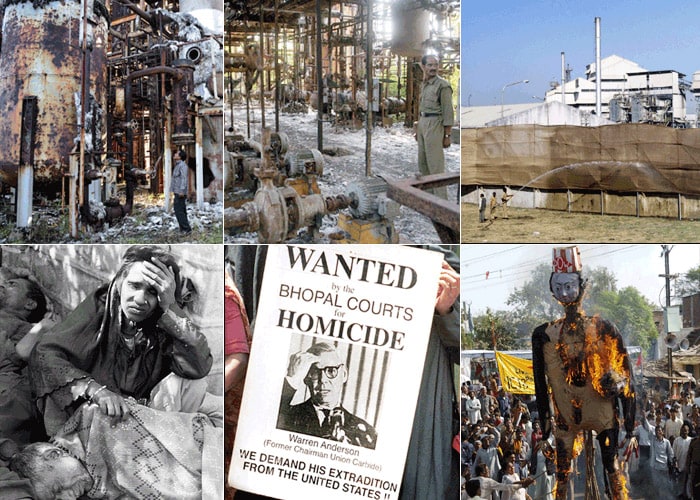 There is no comparison but if you take the BP oil spill and the Union Carbide gas leak you will see how shamelessly we let big corporations get away with murder.
This is not justice from any angle you look at it. The verdict in the Bhopal Gas Murders – for a long we all have been calling it a tragedy – has been pronounced by a
local
court in Bhopal. This is a case that has dragged on for 25 years, claimed 15,134 lives and affected 5.74 lakh people. Let us remember that 'affected' is not a term to be used loosely – people are still suffering from the effects of the gas leak, unborn children will not be normal, it has debilitated thousands who have lost all hope of employment and a right to live with some semblance of dignity.
Union Carbide, the multinational giant that caused the world's worst disaster 40 tonnes of toxic methyl isocyanate gas had leaked from a tank in the Union Carbide plant located in a thickly populated area of Bhopal, exposing more than 5 lakh people to its deadly effects. As part of the compensation deal with Union Carbide, the Centre decided to drop all criminal charges in 1989. The case was revived in 1991 on the plea of the victims.

Despite this, Dow Jones was allowed to purchase the plant; obviously, it cannot be held culpable. However, the fact that an outside group was permitted to buy it and that it even wanted to after a calamity of this magnitude speaks volumes about how careless and unconcerned we are about what happens to those who will get affected.
UC paid $470 m (then Rs 705 cr) in compensation to the Indian government in 1989.
The Indian government gave false figures and after striking a deal with Union Carbide the case was shut. UC cannot be held accountable. US Assistant Secretary of State for South Asia, Robert Blake, has made that very clear:

"We hope that this verdict today helps to bring some closure to the victims and their families. But I don't expect this verdict to reopen any new inquiries or anything like that. On the contrary, we hope that this is going to help to bring closure."
Sure. Some closure.
The accused have been sentenced to two years in prison, fined Rs 1 lakh and granted bail immediately. This is pathetic. Our Union law minister Veerappa Moily, said, "This is one case where justice is delayed and practically denied. I would say justice is buried... There is a need for fast-track courts."
25 years later they want fast-track courts. What will those courts do? I'll tell you. The accused, in this case a few biggies, Keshub Mahindra, will be exonerated even if the case goes to the high court. And that is not the point. We do not know where to stop. There is haphazard industrialisation under the guise of globalisation.
The last time the media spoke about it was during the anniversary and at least one paper was worried that we would be called a banana republic.
It is all about how good we look to the world, when it is this rampant encouraging of outside forces or our own imitation of them – without taking into consideration whether our environment is fit enough to deal with it – that makes us turn into the demon destroying its own tail.
- - -
An earlier piece of mine
here