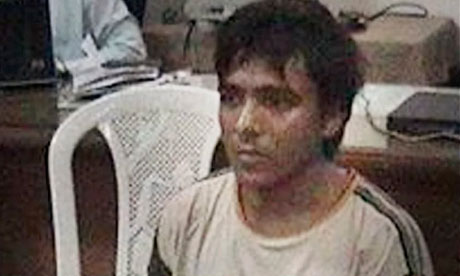 What kind of insecurity is this? Opposition leader Eknath Khadse visited Arthur Road jail and asked Ajmal Kasab how he was. He further questioned him:

'Khana milta hai? Koi takleef toh nahin hai? (Do you get food? Hope you are not too uncomfortable…)
If there was a problem he, together with state minister R.R.Patil, should not have been permitted in the prison. They spent two minutes in his cell, and surely Khadse could not ask a man sentenced to death whether he was looking forward to it.
He has been put on the mat:

However, when Khadse realized that his remarks were inappropriate, he tried to salvage the situation by saying he did not intend to insult 26/11 martyrs. He said he visited the jail in response to a question raised in the assembly and added that he did not ask about Kasab's wellbeing.
Insult to the martyrs? I am sorry if this sounds insensitive but these people were killed by terrorists who had a cause; they did not die for a cause, unfortunate as their deaths are.
Since we are approaching the second anniversary of 26/11, it is once again time for these anecdotes. The families of the dead or the injured are unlikely to be hurt by some minister doing his rounds of the jail and asking mundane queries.
- - -
More significant is that relatives of Rabbi Gavriel Noah Holtzberg and his wife Rivka who were gunned down at Nariman House have filed a wrongful death suit against Pakistan's Inter-Services Intelligence and Lashkar-e-Tayiba at a Brooklyn court.
The government of Pakistan has also been named as a defendant in the suit. There is already some diplomatic jugglery going on. The attorney, James Kreindler, said:
"Obviously, Pakistan is an ally of the United States in the war in Afghanistan and our efforts to fight the Al Qaeda…We know, however, that the ISI has straddled some fences and while Pakistan is certainly cooperating with us, the ISI has used (LeT) for its own purposes."
Of course, nothing will come out of this, except make the Indian Intelligence authorities and the Indian government and its dossiers look like whimpers.
- - -
Here are the images (source Mumbai Mirror) of the lit-up building and what it really constitutes of.
- - -
End quote:

"We have not ruled out cooperation with military. Let's put it as significant change rather than dramatic change. Drama isn't always for the best."
- Aung San Suu Kyi
This from a woman who has never been heard screaming about how she will be jailed, but has lived in imprisonment almost all of her adult life, separated from her spouse and children.
She finally met her youngest son, Kris Aris, after ten years. There are many heartwarming pictures but this shows that she will always represent Myanmar.