I remember clothes – what I wore when and why, if there was a reason. Many of my reminiscences have the dress embedded in them. I like clothes although I am not pernickety. Maybe because I am certain about what I want. "You shop like a man," I am often told. The allusion is to the fact that I don't spend an awful amount of time going through the racks. I rarely window shop. If I did, I'd want to buy the window.
Are clothes superficial? In that case, they'd be deemed superfluous as well. I read some celebrities mention how they only dress up for comfort when they are wearing the most uncomfortable-looking clothes. This is really counter-snobbery. What is comfortable about thick denims in a warm climate?
Not all of what we wear are statements, but they are indicative of how we think to an extent. Henry Ward Beecher is right when he said:
"Clothes and manners do not make the man; but, when he is made, they greatly improve his appearance."
Of course, 'making it' is relative and in social terms all of us are scrutinised by our peers. Clothes are also about manners because they often alter the way we carry ourselves. What we choose not to wear is equally important. One would imagine that people who socialise regularly would get it right, but they are the worst of the lot. There is a great deal of insecurity there. A Tennessee Williams quote is apt, although a bit sexist – it might apply to the male counterparts too:
"A witch and a bitch always dress up for each other, because otherwise the witch would upstage the bitch, or the bitch would upstage the witch, and the result would be havoc."
These ruminations are prompted by the "event of the century". I suppose everyone has different ideas of couture. While I understand the BBC going into every minute detail, what were the Indian channels thinking? Over-the-top society types were discussing how "understated" the royal gown was. There were nods of appreciation that every thirty minutes the people sewing the lace washed their hands and the needles were changed every three to four hours so that it looked fresh and lacy.
The television audience could not see all the work that went into it. We've seen better lace, and the trail did not have the drama and splash or even sobriety, if that is what they wanted. It looked like a curtain had fallen.
A budding queen?
And what was it about the yoke or rather the Madonna-like conical breasts? And really if you are getting married anywhere with anyone, the least you can do is get your hair right. Prince William is young and it is fine to get a hair weave. Really. What exactly did Kate Middleton have in mind with that limp rat's tail hair? If she wanted to leave it loose, as she often does, why not set it or even have a stylish flounce if you must appear casual?
A heady experience
The commentators spoke about how she seemed to be so confident. I wish they had mentioned during all those rehearsals that the bride, when she gets out of her Rolls Royce, gears up to walk the length of the aisle to meet her waiting husband-to-be; she does not first wave at the crowds like some pop star on the red carpet. She was getting married and it is only proper that she played the nice girl along with her husband.
Her sister the maid of honour's gown was obscure and quite 'homely'. Prince Charles and Camilla were okay, and Prince Harry was such a natural and yet poised. But the Queen was so hammy. A yellow dress with a matching cloak-jacket and hat with white shoes and bag! They do it better at the Derby.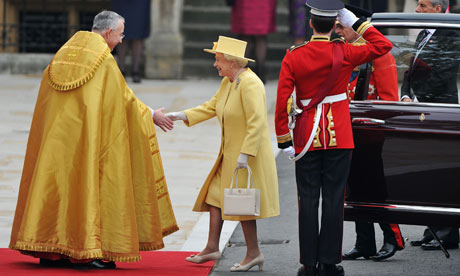 I'll bet on that filly...is that what the Queen wants to say?
All this business about simplicity in the time of recession is a laugh when you invite 1900 "close friends" and hold lavish receptions. Also, the stereotypes were played to the hilt when the BBC sent off its reporters to the Middletons' village and among the celebrations was a duck fight. No one's going to sing a swan song to that for very long.
- - -
Saudi Surprise!
Why invite the tyrants had been the cry when the Arab royals were asked to join in the celebrations. Well, they were there and it was striking to note what Saudi Arabia's Princess Fadwa bint Khalid bin Abdullah bin Abdulrahman had worn. Where is that veil?
The Saudi royals - the lady's not veiling
I recall meeting a rather high-ranking official once. The appointed place was a lounge at a mall and I thought it would be easy to spot him. How many people would be in that traditional gear in the specific place? I looked and looked and finally went up to a security guy around and asked if he had seen any person in Arab dress. No. Finally, a gentleman in casual slacks and shirt walked up to me and shook hands. Yes, this was the man. No beard, no moustache, no prayer beads, no "salaam". His teenage daughter was in a skirt that revealed legs.
So what is it about? Do they do in Rome as the Romans do and at home as their laws expect? If that is the case, then I must say that we need to step out and take another look.
Prince Mohamed bin Nawaf bin Abdulaziz is wearing traditional dress which is perhaps the formal code and a symbol of where he hails from.
If Victoria Beckham can come dressed like she is on the catwalk, pout in place, then the Saudi national dress is perfectly fine.