Take a surgical knife and slice through corruption. What will you get? Here are a few observations:
Black money?
It makes no sense to ask the government to bring all such money back and declare it a "national asset". This is not like bringing back Tipu Sultan's sword or regaining the cricket World Cup after so many years.

In financial accounting, assets are economic resources. Anything tangible or intangible that is capable of being owned or controlled to produce value and that is held to have positive economic value is considered an asset. Simply stated, assets represent ownership of value that can be converted into cash (although cash itself is also considered an asset).*
So, this begs the question: in which kitty will the money go? And since everyone is talking morality, would we not want to know the genesis of such wealth? Is it not more important to try those who took that wealth elsewhere?
Last night NDTV had a show on Ramdev.
I saw the last 30 minutes or so. There seemed to be no interest in the subject, especially by Madhu Kishwar and Shabnam Hashmi. Both of them are activists. I had to first get over the block of the song playing in my head,
"Mera naam hai Shabnam, pyaar se log mujhe Shabbo kehte hai…tumhara naam kya hai…Eena, Meena, Anju, Manju…yaaaaa…Madhu…."
That would have been a better idea.
Shabnam for some reason kept bringing up saffron terror. This was not the issue being discussed and only made her come across as a typical Muslim Commie. Madhu has changed since the days when she would go around holding a flag for secularism; she does not even call herself a feminist these days, which is where she first cut her public teeth. Of course, she is concerned about women's issues but it is a bit like saying you know I am not that kind of woman. Anyhow, she thinks Baba Ramdev was doing the right thing as long as he did not resort to any violent means and we should not rubbish him only because he is seen as a sadhu. I shall not repeat
what I have already stated
, but what kind of intellectual arguments are these?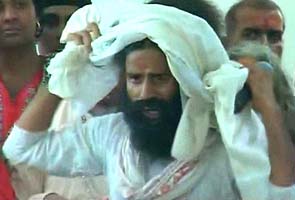 (Sotto voce: How did Ramdev change into a salwaar kameez with such super speed behind the women? Was he prepared for it and got the right size?)
Fine, you think sadhus are okay doing field work, then let us bring in Chandraswami.
Does anyone remember him and how he functioned and what deals he got through? What are Ramdev's, and Anna Hazare's, views on him, and the many ashram activities, and to be nice and secular, also the madrassa activities and the missionary positions? Damn. Don't these people see that we cannot allow these guys to take over? They have given up all worldly stuff, so why are they now getting centre-stage? Will they examine the funds that are donated to the rich temples? The crores spent on gold for the idols? Do they have accounts for the gold? Do such places of worship maintain records? I know that you can be royally gypped at the Ajmer and Nizamuddin dargahs.
Also, while we are harping on Swiss banks, let us also take into account several professions where transactions are done by cash. Are they all accounted for? The corruption caravan is smartly riding on the "poor must be saved" fake idea. It is largely the middle class that never questioned such unaccounted for money and was happy to ride on Dhirubhai's share market dream, irrespective of the means he used. So what are they complaining about now?
There is also the corruption of ideologies.
You are not azaad if you screech about azaadi by hanging out with people with dubious motives, irrespective of how anti-establishment they are. How many madaaris live for the monkeys?
And please do not tell me about how revolutions are made. Often, when you have large sections of population fighting with straw arrows at a haystack you end up with morally-upright venality.