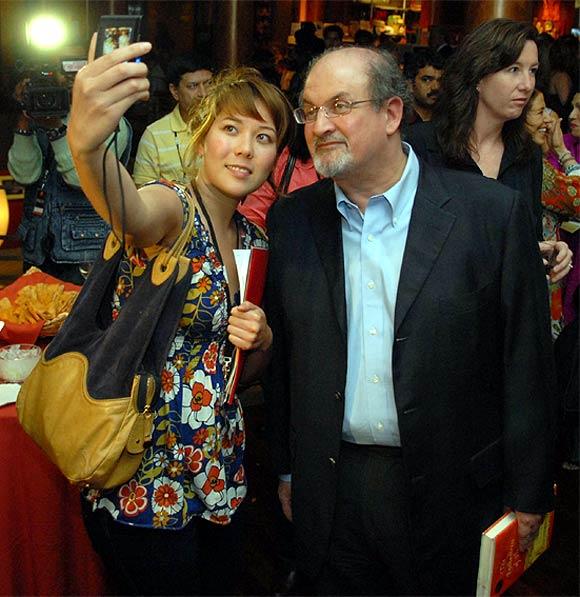 Here's looking at me
Salman Rushdie and Imran Khan are birds of a feather. One ruffles the other's; the other decides to wing his way based on that. They would both be rather comfortable in the same room with the same company. Both use their position to gain brownie points and sound holier-than-thou. And they both love martyrdom, of being the wronged.
It is not news that Salman Rushdie who milked the Jaipur Literary Festival for all it was worth because of a Deoband fatwa is very much in the country for the India Today Conclave. No protests, no one reading offensive verses to uphold freedom of speech. Where are all those yes-men/women? He was speaking on 'The Liberty Verses: I Am What I Am and That's All That I Am', which is a bit too cutesy for a seminar. It's what you read starlets say when they drop their clothes.
Rushdie, for all his fame and acumen, has the mind of a starlet. He started by taking a dig at Imran Khan who backed out of the Conclave because, as a statement issued by his office said, "Imran could not be seen with a man who had immeasurably hurt the Muslims."
I've got a headache
Imran is a full-fledged politician now and was always a covert politician. Despite my reservations about him, one has been aware about who his sympathies are with. When he realised he wanted to get into electoral politics, instead of appealing to the class of people who he belonged to, he decided to use the religion card. He knows that beneath the surface this is what works with the upwardly mobile middle class. With aspirations come guilt. Religion rushes to the rescue.
He would not take risks. And, why should he? He knows that even if he makes 'fundamentalist' type statements, he will still be quoted by the liberals. He has nothing to lose.
Rushdie, typically petulant, got himself a halo by speaking on behalf of the "Muslim world", saying that immeasurable hurt is caused by terrorists based in Pakistan who attack countries like India. "Imran wants us to talk to the lashkar. Immeasurable hurt is caused by those who killed this young man's (Aatish Taseer) father."
That was a shrewd move, especially the use of "us". Is this the India that he claimed did not allow him to visit? Is this the India where he had said organisations like the Deoband "blackmail" the government? Is this the India where law-and-order issues force writers to run for manufactured cover and splash their 'escape' in every possible avenue?
Which India is he visiting and how does he assume anyone will talk to who Imran Khan wants us to, and I am talking about us who don't have the time for him or Imran's nautanki.
Imran has not yet responded, but Rushdie who has no argument to offer and is still basking in the glory of 'Verses', resorted to a personal attack:

"Back when he was a playboy in London, Imran Khan's nickname was 'Im the dim'. Now that intellect is in the service of his people."
Obviously, he considers people like his masters in the west to be huge intellectuals, their playboy credentials notwithstanding. It only goes to show what stuff this man is made of that he needs to go back to college to produce sniggers.
I mean, why is Rushdie wasting his own intellect fighting the "dim"? What about the stunningly brilliant women hanging on his arm at socialite parties? That's where Imran Khan too chills out during his visits to India.
And for one who has been pontificating about how all ideas must be allowed or else it would be authoritarian, he is being bloody authoritarian. If people are not interested in sharing space with him, it is their choice, their freedom. He should not act like a school master expecting full attendance.
It might help if he stopped banking on Islam to bail him out of his whining about being let down. Get over it. Did Narendra Modi attend the screening of Parzania, the film on the Gujarat riots? Perhaps, he could explore that as well.
As for Imran Khan, I am glad he is not Indian. Wish Salman Rushdie also wasn't.
(c) Farzana Versey