Seven of those who plotted the assassination of Rajiv Gandhi are free. If mercy petitions take long, does if mean that the convicts ought to be set free? By this logic, how do we deal with the even more serious issue of undertrial prisoners who are dumped in cells without even a trial, and merely on the basis of suspicion? Should this case be treated as more important than any other?
That day of May 21, 1991 has been etched in the memory of many Indians, irrespective of political views. A young former prime minister seeking to get re-elected in the forthcoming elections jumped right into the trap, the perils of being populist, and popular. Those images of his torn bits, and the memorable one of his shoes, made the nation mourn, mainly for what was seen as 'bringing it upon himself'.
Briefly, the secessionist movement in Sri Lanka by Sinhalese Tamils, helmed by the Liberation Tigers of Tamil Eelam was initially assisted by Indian agencies, including the Research and Analysis Wing (RAW).
The members were trained in India. However, as happens often with legitimate power brokers, India sent a peace-keeping force that did what any muscling army would do. Sri Lanka and India signed an accord where the rebels were not even taken into account. That there is still disaffection and the struggle has become even more violent, with many Tamils being killed, speaks volumes about what can only politely be called lack of political will.
Lack of political will often translates into politicking. On February 18, a day after the Supreme Court commuted the death sentence to life imprisonment for three convicts, Tamil Nadu Chief Minister J Jayalalitha went a step further and in the cabinet meeting decided to free seven of those who plotted the murder. This is not a case of egalitarianism, but sheer arrogance. She was
quoted
as saying:
"The cabinet has taken a decision to release the three convicts, Perarivalan, Murugan and Santhan, along with those four, Nalini, Robert Pyas, Jayakumar and Ravichandran who are undergoing life sentence. The decision will be conveyed to the Centre for appropriate action. If we don't get their response in three days, we will release all convicts in accordance with the rights granted under Indian Constitution."
The report further states, "The state government has the right to release convicts who have completed 14 years in jail after considering their good conduct."
But is this consideration for the "inhumanity" of their incarceration for 20 years? In which case, as any human rights organisation will tell you, we need to standardise procedure.
This would be a good precedent only if it is not selective, and applies to other insurgents who can claim in all seriousness that either they were unaware of the big picture or that they were ideologically motivated, both of which have been mentioned in these cases.
The popular perception is that Jayalalitha is appealing to the local Tamil population who empathise with the Tamils in Sri Lanka. The point is not to doubt that, but it certainly raises the question about how long and to what extent her concern will last. Freeing prisoners of a high-profile case seems like a gimmick if there is no support at a fundamental level.
When the SC put the onus on the executive and stated that "it was not for the convicts to bring forth the evidence of their suffering and agonising affects on their body and mind", it did come across as bit simplistic.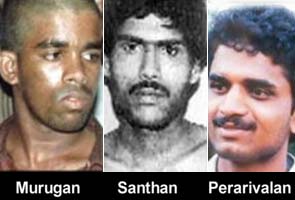 Murugan, Santhan and Perarivalan said "there was unexplained delay in deciding their mercy pleas". It is indeed a good move that there is no capital punishment, but it seems surprising that the prisoners were concerned for their life. The LTTE cadre is geared for death. The suicide belt that killed Rajiv Gandhi would have killed the assassin. If the killers or the plotters are captured they are expected to swallow cyanide.
The timing of the SC verdict does not appear innocent. There is no way the Gandhi family will oppose the life sentence and ask for capital punishment. It would be political harakiri.
In fact, it can be said that the 'forgiveness' started at 10 Janpath. Two years after getting the death sentence, Nalini Sriharan, one of the main plotters, got a reprieve after Sonia Gandhi intervened. Priyanka Gandhi visited her.
A front page report in The Times of India in 2008 stated:
According to what Nalini told her lawyers, a visibly emotional Priyanka made Nalini sit next to her and asked several short questions related to the assassination. Why had it happened? For what purpose? What was Nalini's involvement? Nalini replied, "I didn't know anything till the end. But it is true that I went to the spot." Nalini is the sole survivor of the five-member assassination squad.

Priyanka is quoted by the lawyers as saying, "My father was a good person. It could have been resolved through talks. Had you known about my father's good nature, you would not have done this." Nalini apparently kept quiet. Then Priyanka asked, "When did you see my father last?" Nalini said, "When he got out of his car."
The sympathy wave for the sympathy wave is a known tactic. But did Priyanka Gandhi have the authority to conduct such an enquiry? We are talking about a hugely serious issue that is still on the boil. How legally valid is it for the meetings to have taken place, for anyone to file a petition on the basis of Right to Information and, most importantly, whether the media ought to have carried such stories at all?
Now it is in the public domain. The questions remain. Is the judiciary going strictly by the book, or is it assisting the political class?
Will this sentence stand in every court of law when other cases are brought up? Is India going to be 'humane' to all secessionist groups? And if not, why?
The Congress party heads have displayed magnanimity, but this is not merely about coming to term with a personal tragedy. The issue of Tamil Eelam does need to be addressed. And then on to other such movements.
If they are ready, as are other parties, then perhaps we ought to welcome a renaissance in political thought where rebels are recognised for their ideology and prison bars do not demonise.
© Farzana Versey
---
Images: Livemint, NDTV