Is arming a section of people who are victims the solution? 35 people have been killed, a few hundred injured, and many more displaced. Their houses are rubble.
Days after the Bodo insurgents struck in the Kokrakhar and Baksa districts of Bodoland Territorial Area Districts (BTAD), came
this suggestion
:
The Assam government on Sunday was thinking of arming Bengali-speaking Muslims in Bodo areas with licensed guns and asked for applications from villagers even as the situation in Kokrajhar and Baksa returned to normal with no reports of fresh violence.
State forest minister Rockybul Hussain said Bengali-speaking Muslim villagers should be given licensed arms by the state government for self defence. "Since the home department in Bodoland Territorial Council area is under the state government, the government can provide licensed arms if anyone applies for it."
This is ridiculous, especially considering that the Bodos are armed and in a majority in the area. This would amount to merely creating a parallel form of false insurgency. They tried it in the Naxal areas. It does not work. Besides, some Scheduled Tribes are Bodo, and they too are poor.
The gun license would require official documents, and many might not have them, which would be further reason to harass them. The arms could also be used by others. These are dangerous ideas. There is Bodo history, but it is not difficult for the ruling class to use a disaffected people's aspirations.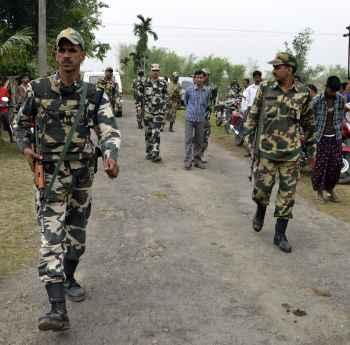 Fortunately, Chief Minister Tarun Gogoi, whose Bodoland People's Front is a Congress ally, has denied any such plans:
The state government has not taken any decision as reported in a section of media that the government would issue firearms to violence-affected people in BTAD area, Gogoi said in a statement here. The government would provide security cover to the people in vulnerable areas by increasing the number of police pickets and outposts, strengthening of Village Defence Party, formation of peace committees and by taking up other security measures, he said.
While it is not possible to anticipate violence, this is ripe territory for politicians to capitalise on election fever. The government ought to have considered this. We now have the usual blame game with everybody from Omar Abdullah in Kashmir to the Shiv Sena's Uddhav Thackeray in Maharashtra either accusing or standing by certain politicians. The BJP's Venkaiah Naidu took this opportunity to
remind people
, "Everybody is blaming Modi because Modi is a darling of the masses".
The BJP, like the Congress, does have a stake in territorial violence.
How can we forget the Modi reference to "Bangladeshi immigrants" occupying the land that was meant for the "pride of Assam" – the one-horned rhino? Then there is promise of the separate Bodoland (Telangana redux?). The rightwing also thinks it is the right time to discuss other states where Muslims are not in a minority. It is fair to do so, but why on the ashes elsewhere? Why can't they deal with what is happening now, since they had not done so when the other displacement and violence took place?
It is not only political opportunists. The Times of India report too states:
Bengali-speaking Muslims have clashed with Bodos four times in the past, the earliest being in 1952 and the most recent being in 2012 when 105 people from both communities were killed in five days.
So, Muslims clashed? In 2012, they were shot down, and the rest had to flee or find succour in relief camps. This time too
other reports
have mentioned how the Bodos entered the villages and chased them, even firing at those who jumped into the river. It was an organised attack.
"There were about 40 of them, some in battle fatigues and faces covered with black cloth, and some others wearing khaki. All of them held weapons."
It is important to note that if the clashes started in 1952, how can it be a question of Bangladeshi immigrants? The 'immigrants are taking over' is an old ploy to whip up nationalistic frenzy.
It is particularly galling considering that politicians have never paid attention to the North East. From 2012 to today, the interest has been purely to create and add to the fissures.
Finding a solution is not about leaders playing one group against another and empowering one to fight another.
© Farzana Versey
---
Also:
Rediscovering the North East or Riding the Bandwagon?