What happens when you hold on to a language? Is language to be found in unfeeling books or in deeply-felt living, the daily transactions of the marketplace where not just products but warmth is exchanged too?
The play 'Loretta' examines these questions using an island as metaphor. Now, I love islands and I love languages just as the protagonist here does. Not language as an entity, but those wisps of strung words, laughter tinkling as they sway in the breeze. My young self, like Loretta, often used them – to remove barriers. What was done for a lark would end up connecting. Language was emotion. If silence is a rock, then language is the water that flows around it, sometimes gently, sometimes with the force of a tidal wave.
It was fitting that I watched the play at St. Andrew's Auditorium on Friday. There was music in the foyer that became the stage for foot-tapping and dancing. There were nuns and it would seem the whole of Bandra. There were nods of recognition, our faces now only party masks that announced we all belonged to the same language space – a suburb where pao sellers and fisherwomen, and Konkani are neighbours.
They were selling vada-pao (and pork too!) and coconut water in its shell. A man, not young, wearing low-slung jeans and tight T-shirt that hugged his belly was stuffing the bread in his mouth while he continued to shimmy. I smiled, but truth be told I was moist-eyed. This was an island and the tongue we all spoke was not the delightful patois of "what men", "dat damn bleddy fool didntevendeliver da tikats" but of "our ladies are nice, gents are full of spice".
Everybody was a character. It is this meshing of fiction and the real that has prompted me to pen this. 'Loretta' is set in the Goa of the 1970s. Landlord Antonio Piedade Moraes, Konkani fanatic, is more upset with son Raphael for choosing English than his leaving the St. Bartholomew Island. Raphael returns with his Anglo-Indian girlfriend so that he can get a Portuguese passport (Portugal accepted Goa's annexation in 1975); he baulks at this closed existence. Loretta warms up to it. Why?
That she is seeking roots does not really wash, for these are not her roots. Why does she feel she belongs here and why does she want to learn the language? Why do we feel we belong anywhere? Think about the places you have felt the same. I've experienced this – in spots from Dubai to London to a village in Maharashtra, a noisy stretch in Nepal. None of these is about finding a comfort zone; it might well be strewn with difficulty. Loretta may seem to romanticise the quiet and the sound of insects, but she knows it is not like Bombay that even in the 70s was no cocoon.
A sense of belonging is complex. We belong without reason. Her wanting to learn Konkani is not so that she can communicate with the people on the island but to reach out to Antonio. Antonio whose memory of his wife she awakens. He is connecting to nostalgia and she too of a time when she had family close to her. The family constitutes all who submerge their individual identities into this pool.
Pedro the pao-seller whose "bread tastes better after it falls in the water" or Audu the fisherwoman who you can bargain with not with words but decibel level or Miguel the toddy tapper who sings atop the tree a song both plaintive and welcoming – they are all conveying some sort of language.
There was a moment of brilliance when Caitu brings in these three as scholars testing Loretta on her Konkani. They are masked like aliens, conveying just how distant learning is from lived expression. [I've been told that they were dressed like Spanish Inquisitors during the Crusades. As parody.] Among her tests is sniffing some things and recognising them. Think of the many olfactory language connections we make - coconut oil takes us to Kerala, mustard to Bengal, tea to Assam.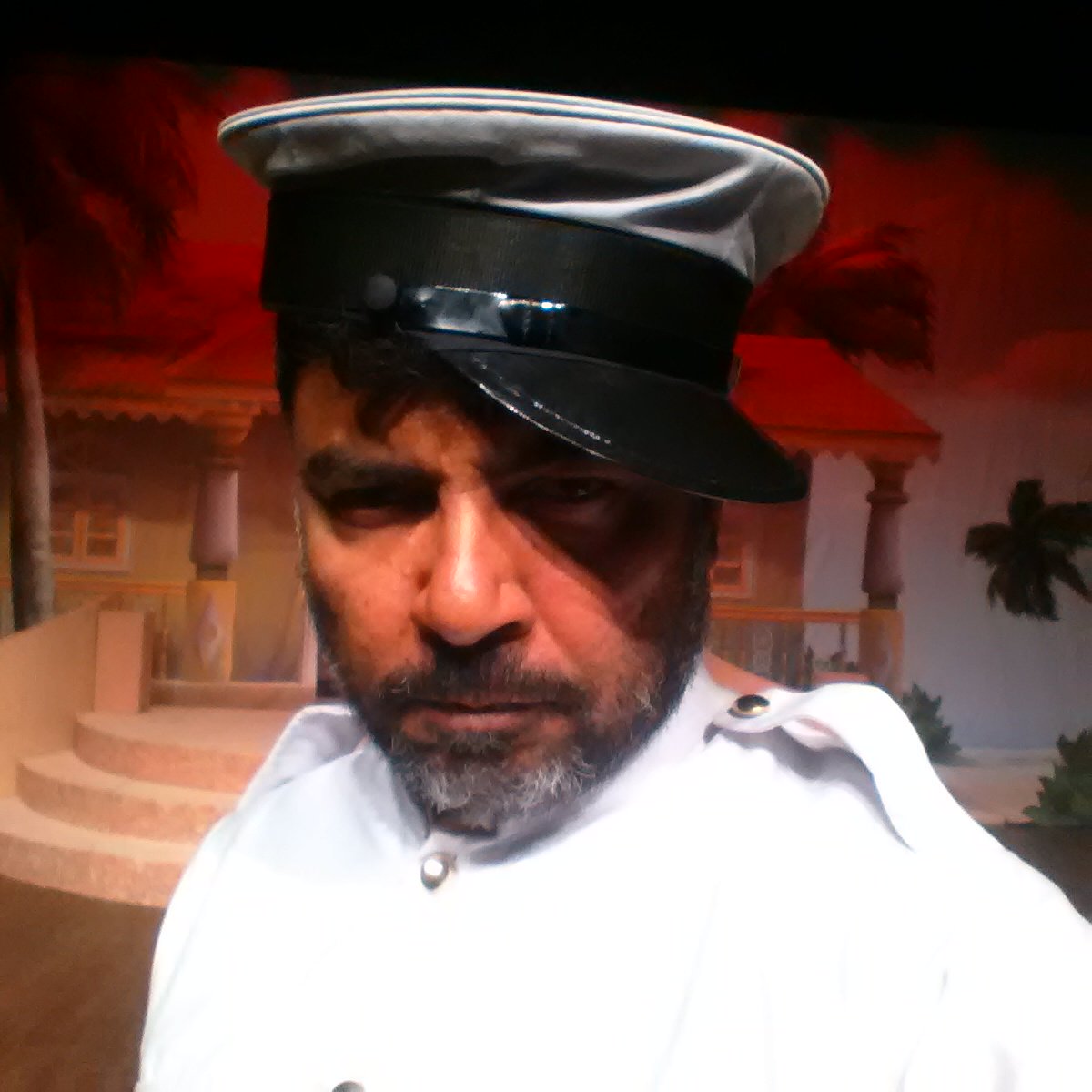 Caitu understands smells. He is, among other things, the "going here and there" man. He breaks the protocol of the island. He acts as a transposition; in traditional Indian theatre he might have worked as a sutradhar connecting the dots. It is not about rising above his station but breaking barriers for there to be no status consciousness. Caitu is both Man Friday and boss of all he surveys; he is lover of Konkani and lover of English; he is devotee and messenger; he is bridge and he is water.
Towards the end, Loretta almost drowns in the river. It is the denouement for the building of a bridge. It is also a comment on how the beauty of language can only be enhanced by openness. That nothing is static.
---
A short review seems fitting. It was only after the first interlude that the play got into its groove. The music with a live band was authentic and rather lovely. The actors did their parts well enough. Kailash Waghmare as the toddy tapper had the body language of one; he so became the guy that I cannot imagine him doing anything else. Then there was Danish Husain as Caitu. He walked, talked and ate the parts up (parts because of the play-acting within). His Caitu could be Shakespeare's Touchstone, but with the wisdom never in doubt.
Talking about the interludes, I have a couple of quibbles, shared by a few. The director Sunil Shanbag should have clarified at the beginning the nature of the tiatra genre of using unconnected-with-the-theme songs and commentary. These were contemporary pieces of political and social satire. They might seem to interfere with the flow. Although I enjoyed them, especially the one on outsiders making a mess of Goa, it would have been better if the connection of each piece that took off from the scene that ended was more sharply delineated. It would then have been like a montage of both the past and the present.
The screen too had newspaper clippings that were topical. A mix with the 70s headlines would have made a trenchant comment and also acted as a bridge.
These are minor points, for in the end the crowd of 800 was enthralled. The language spoke to them.
---
"Language is the blood of the soul into which thoughts run and out of which they grow." - Oliver Wendell Holmes