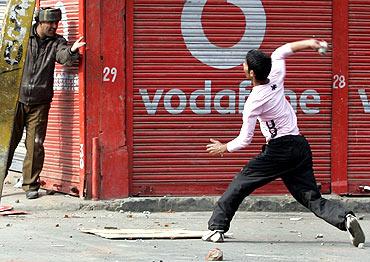 Happy to help?
"Are stone pelters the real heroes?" is a question that is on the minds of many Kashmiris. In a winter that follows a summer of over a hundred deaths, would they have gone cold and numb?
Were these the thoughts in Professor Noor Mohammed Bhatt's mind?
A Kashmir University professor was arrested on Friday for framing a question paper for first-year BSc students that included, "Are stone pelters the real heroes?"— referring to the three-month agitation across the Valley this summer in which more than 110 people were killed.

The second impugned question sought translation of a passage from Urdu to English, which contained a diatribe against Kashmir's "occupation" with provocative passages like "Kashmiri blood is being spilled like water, Kashmiri children are being killed by the police and Kashmiri women are being showered with bullets."
Besides his arrest, it has caused embarrassment. Why? Aren't they embarrassed by the situation in the state? Aren't they embarrassed by the manner in which the struggle gets overtaken by outside sympathisers who reduce their struggle into a Pakistani add-on?
Protest movements have used such methods in the past. This is the equivalent of flyers and posters, only it used a more potent and legitimate source to get back at a potent and legitimate force. University politics is not unusual and it is very clearly run by political parties. In this case one is not sure. I am just wondering what would have been the reaction had the question been, "Is Omar Abdullah the real hero?"
Prof Bhatt's colleagues reacted with shock saying they were puzzled because he was not known for his extreme views. Most, instead, believe he was trying to kick off a debate among the young on the futility behind endless protests and their chosen method of pelting stones. The examination controller is now scrutinizing all the other question papers to ensure no more such nasty surprises await students.
His colleagues obviously do not understand what extreme views are. There is no allusion to 'futility' here. Indeed, the reference to 'occupation' is unfortunate, but he is most likely trying to push the envelope. And anyway, why blame a Kashmiri Professor who lives there and has seen the bloodshed and has taught at the university for 20 years saying it when others come and barf this stuff from the dais?
He has had no chance to go to the media and create a sympathy or rumour wave for himself. He has been arrested. It will be for misusing his position, misleading students, causing unrest…what else? Has any Kashmiri leader come to his rescue or spoken up on his behalf, even if it needs an apology for using the wrong forum? Where are the azadi people? Come on, fess up?
The authorities will be careful from now on, but the question paper went through. Maybe the disaffection is deeper and far more widespread than some fantasies would like us to believe. These are BSc students and will probably want to graduate and get jobs. Will they get jobs?
The newspapers smartly added a boxed item to this report about how 13,000 Kashmiri youth turned up braving the cold, riding buses and motorbikes (and this is like important news…isn't that how people go anywhere?) to fill up 232 vacancies for the post of constables.
What is this supposed to mean? That the youth is so happy? Or that 12.768 people will return in the freezing cold, riding buses and bikes to their homes and gather stones?