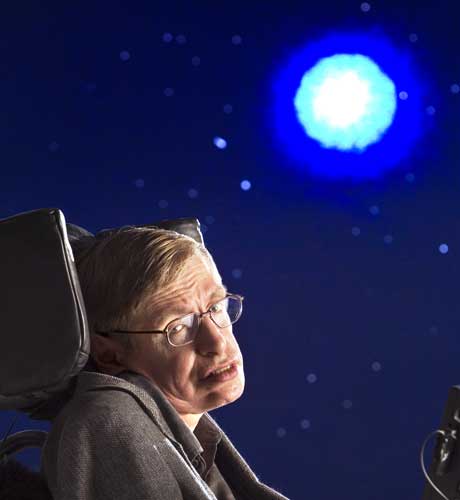 Stephen Hawking says something quite ordinary and there is a reaction. The battle between science and religion is old and makes little sense. Although a non-religious person, I really don't get excited about monkeys or the Big Bang theory. Does that mean there is a teeny-weeny bit of hope that I might be ready for some Edenesque idea or whatever the counterparts? To make it simple, I do not rule out possibilities, which is a scientific attitude.
In fact, most seekers who go to religion do so as an experiment. The main problem I have with Hawking is the statement that has been doing the rounds:

"I regard the brain as a computer which will stop working when its components fail. There is no heaven or afterlife for broken down computers; that is a fairy story for people afraid of the dark."
This is facile in the extreme. While the brain may be likened to a computer, what about the software? There are several of those and they can be loaded whenever we want as per our requirements. The failure of the computer is technical, not philosophical or psychological. A brain-dead person, or one who suffers cardiac failure for that matter, is the end of life. It does not end the possibilities for the living.
Hawking's problem is to see religion as a fairytale. It isn't. Outside of organised religion, there are very many stories, and I have no idea how he concludes that these stories are for those who are afraid of the dark. By saying so, he assumes that death is dark and not as much of a happenstance as his scientific beliefs are trying desperately to convey. I wonder what he has to say about science fiction. It is hypothetical, it creates larger than life heroes with 'god-like' abilities. The scientist himself is considered some sort of miracle because he has survived despite a debilitating disease. Of course, it is science that makes him accessible to the world, but when he is applauded for his willpower, what is the scientific basis for it? Where does the urge to live against odds come from?
I am most certainly not alluding to a belief system, but to the philosophical dimensions beyond a computerised brain. It might be a wicked idea to posit the gravitational aspect of Newton's discovery with the enticement of a serpent. It could have been an orange. Why did it have to be an apple?
It would be interesting to add here that almost all 'religious' fairytales are up for scrutiny on a regular basis and hypothetical questions are asked of them. It is true that the vast majority is made up of blind believers, but are there watertight compartments about scientific theories? Have they not been debunked or proven wrong?
I wonder why there has been no mention of hell, which comes as a package deal with heaven. Stephen Hawking should know that the devil is in the details.