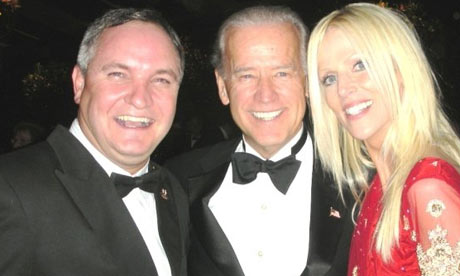 This sure wasn't about being part of the hottest party at the White House al fresco dinner. You've already read about the couple who gate-crashed. It raises questions about security. The US creates this thing about how it must save itself from those monsters, and here two people, Tareq and Michaele Salahi, manage to not only be a part of the party but also pose for pictures with vice president Joe Biden, White House chief of staff Rahm Emanuel, three uniformed
Marines and CEO of PepsiCo, Indra Nooyi.
I understand it is assumed that those who are there have been invited and it is polite to take pictures. I'd be curious to know how they introduced themselves. If they did not, then it means that big ticket events are just another ruse for schmoozing. These guys had a reason, being celebrity wannabes who put up the photographs on Facebook. That is when the security agencies noticed the goof-up. Does it mean that now government agencies will have to depend on networking sites to get their information? Have we come to this sorry pass when citizens won't know about the real risk potential until someone gloats about it on their 'walls'?
Reports have said in a rather cavalier fashion that the couple did not get close to the President and weren't a threat. They are saying this after it happened. What if they were a threat? Oh, of course, they look clean, they don't fit a stereotype.
Therefore, the whole bogey is still about getting very, very scared only about certain types.
- - -
Certain types brings us to a question. Why would a year-old story resurface again providing no new information? This is about the hoax call made by the alleged killer of Daniel Pearl who pretended to be leaders of India and Pakistan and "heightened tension between the two countries following the Mumbai attacks". The calls were made to Indian external affairs minister Pranab Mukherjee, Pakistani President Asif Ali Zardari and Chief of Army Staff General Ashfaq Pervez Kayani.

"Omar Saeed Sheikh was the hoax caller. It was he who threatened the civilian and military leaderships of Pakistan over telephone. And he did so from inside Hyderabad Jail."
I know that officials are corrupt and it is no big deal for criminals to procure phones inside prisons. Underworld dons in India continue to conduct business from the confines of their jails and even contest elections!
Shaikh's wife gave him the information about the Mumbai carnage and when all the Lashkar-e-Taiba terrorists were killed, he made a call, first to Pranab Mukherjee, posing as Zardari. Anyhow, when he was told they'd get back to him, he called up Zardari and Kayani.
The question is: how did he have the numbers of these high-powered leaders? Anyone who has heard Pranab Mukherjee speak will never forget it for the rest of their life, especially people who have to deal with him. I understand that terrorists are getting smarter, turning into linguists, but mimics too?
Can they just pick up the phone and talk to presidents and army chiefs and threaten them? I mean, how would Pranabda get aggressive? Would he call up to say, "
Asheef boy, harm tomar log ka oopaar vaar kaarega
" (Asif bhai we will wage war against you)? And "
Koyoni shaab, kaun-troll koro apna army ko nahin to homora army tomar aadmi ko phinish kor lega
" (Kayani saab, control your army or our army will finish your army)?
This Shaikh guy was released by us in the exchange during the Indian Airlines hostage crisis in 1999. They say he used a British SIM card. Isn't this a bit unusual that such powerful men would assume that their counterpart in another country is calling them up from a number of a third country? What was the exact content of the threats?
The reports do not mention that. They managed to trace the source of the call and are "baffled by his cheekiness". Baffled? Where is their security?
Who is being taken for a ride here? The political leaders? The army? Or the people? It is the people. This drama that is costing a precious paises to the Indian exchequer and making a mockery of the judiciary in both countries is going to be a long-lasting soap opera. Kasab will be our new Kashmir issue.
The most amusing part was a report in Rediff that said, "Sheikh was brought up and educated in the UK, and briefly attended the London School of Economics before dropping out to pursue a career in jihad."
Now jihad has become a career and not a passion or a misguided decision by men of god?