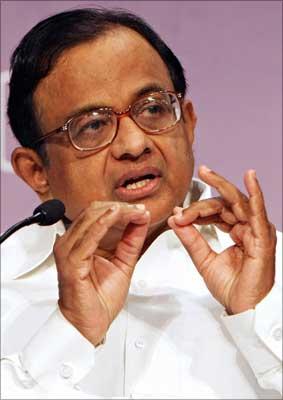 The Malik-Chidambaram Face-off - A Satire
by Farzana Versey
Countercurrents, September 12, 2009
This is an exclusive peek into the private debate that took place between Pakistan Interior Minister Rehman Malik and India's Home Minister P Chidambaram regarding the 26/11 attacks. Mr. Malik had suggested they meet at any place – India, Pakistan or elsewhere. After much deliberation, Nepal was chosen. They had seen former Spice Girl Geri Halliwell plant a peck on the Nepal king's cheek. Détente was all about gaal se gaal mila…
P Chidambaram: Just wondering.
Rehman Malik: Now what? You think too much. You remind me of Dalip Kumar, you know he also has this pose of hand under chin. Big tragedy king. India's gain, Pakistan's loss.
PC: What happened? He has nukes?
RM: Nahin yaar. He is original Peshawar banda, and you got him. He became so famous doing all those rona roles. Sometimes, I think he misses being with us.
PC: You gave him Nisha award, right?
RM: Nishan-e-Pakistan…
PC: Oh, whatever.
RM: Not vatever. We have enough on plate…
PC: Plate? Are we starting with lunch?
RM: Nahin, I mean we have enough problem; you want us to probe what happens in your country, then you send formal request in Marathi. How can we understand?
PC: It is not for you to understand. This is bureaucracy. Did you understand anything that Baitullah Mehsud used to say? You think only you need time? We also need time.
RM: How much? I told reporters that day that we filed the chargesheet in court within 76 days whereas Indians took more than 90 days to prepare it.
PC: Have you seen our population? Our courts have too much work. And all because of you guys. If you want to infiltrate why did you guys leave during partition at all?
RM: Tohada dimaag toh theek-thaak hain? I was only in kindergarten that time.
PC: You went to kindergarten?
RM: Haan toh…Jack and Jill saath saath vich hill climb and then Humpty Dumpy came tumbling after…
PC: You are mixing up your nursery rhymes.
RM: So vaat? How is Arun Shourie saab? He is ekdum intel gents, full of fatafat rhyming.
PC: Can we get down to business?
RM: Down ya up, business is business. Bolo, kithe shuroo kainda?
PC: So what are you doing with the dossier?
RM: Which one – Baluchistan or Mumbai?
PC: Excuse me, but your own PM made it clear there was nothing given.
RM: We don't have to give everything we make. Waise, your Man saab is changa aadmi…ekdum jo moonh mein aaya bol diya…
PC: Er…
RM: Err…ghalat honda?
PC: Ok, we both know English.
RM: We both studied statistics also.
PC: Oh, well, I am a lawyer, too.
RM: I got doctorate in criminology.
PC: So find the criminals for us.
RM: Lau ji, if you are saying we send criminals then how we can have them also…this is like eating cake and having it…Mary Queen of Scots said.
PC: No, she did not.
RM: How you know what she said and what she didn't? The problem with you Indians is jumping the gun and not pumping the gun.
PC: We are the land of Mahatma Gandhi…we believe in non-violence.
RM: Chhad yaar. But I am not minding. You took effort to come over here to debate, I am grateful to Allah.
PC: Hmm…I took the flight you know.
RM: Oh yes, that also in conmy class. That Parnab is on new trip.
PC: We understand that we need to pull up our socks.
RM: Loose hain kya? Please tell me why all Indian finance ministers carry that funny briefcase like someone carrying black money?
PC: The budget report is there.
RM: Ok, so budget has to have small buxa, not big. Nice symball.
PC: "Gham ka heera
dil mein rakho
kis ko dikhaate phirte ho
ye choron ki duniya hai…"
RM: Wah-wah, you know Urdu so well.
PC: All finance ministers must know. In India it is tradition to quote Urdu poetry.
RM: But you did not.
PC: I know. Big mistake. We need to appease people.
RM: But Muslims are poor.
PC: Who is talking about Muslims, we have to show Pakistanis that we are Jack of all trade.
RM: Jack in the box…
PC: Please, can we start the debate?
RM: Ho gaya ji. Baat cheet. Hor ki? Kuchch spice gal ho jaaye.
PC: It does not become us.
RM: Who is wanting anyone to become. I only asked for spice gal…gal meaning talk. You Indians are so big country but you only have one railway track line mind. I don't want any trouble. Zardari saab said one nice thing to Sarah sahiba and whole of Pakistan was called Republican.
PC: You are anyway half American.
RM: Haan, sahi hain. But you are full Italian.
PC: I take your leave sir.
RM: Allah hafiz…
PC: Thank you for reminding me…where is Hafiz Saeed?
RM: And who is Zaki-ur-Rehman Lakhvi? Make up your mind who did what. Next time we will have more material and debate on border. Then we will see doodh ka doodh, paani ka paani.
PC: We have a shortage of ghee and butter in India, you are rubbing it…
RM: Correct. Rab sab jaanda, I tell you.
Both depart. Rehman Malik takes PIA fusst class and asks for razai. P Chidambaram gets into economy and the seats next to him are vacated.
Ajmal Kasab continues to grin in court.